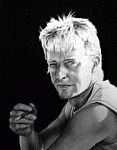 Alan Daniels

Alan Daniels was born in Stockport in the North of England and studied fine art/sculpture at Maidstone College of Art in Kent. After graduating he traveled extensively throughout Europe.

It was here that he discovered his affinity for drawing heavenly hussys, initially in an erotic Alice's Wonderland series and then in a more idealized pin-up fashion. These paintings and drawings were exhibited in England and Germany.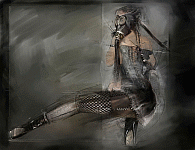 He resettled in England and worked for a while on science-fiction paintings for the Young Artists agency and airbrushed pin-up art for galleries and publications such as Penthouse, Playboy, Mayfair, Zoom, Avante Guarde, Omni. Club International and Men Only. The connection to California began to form whilst doing work with Paper Moon Graphics in Los Angeles.
While touring America he fell in love with California and moved to a town north west of Los Angeles where the cost of his lifestyle took him so much by surprise he developed his technical illustration style but continued to do science fiction illustration. The pin-up ladies started to develop futuristic overtones during the work he did for Blade Runner. At this time work for pin-up magazines was becoming less acceptable as what was being asked for was no longer erotic. The technical style that had been developed now supported him and many others with illustration work.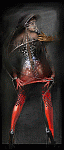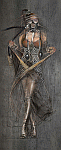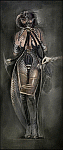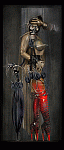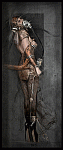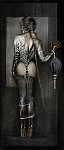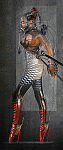 Returning to the ladies, they are now somewhat of a contrast to the idealistic airbrush renderings of his earlier work, the atmosphere was too antiseptic and failed to leave room for emotion. The darker feeling that is now evident is to allow for what is not always apparent.
Initially the girls were perfect icons drawn from the male fantasy of the female form, the Hussys now are more of the girl next door, and someone you cold hold a conversation with. These are not in peril, submissive girls, they are self assured women with the most interesting forms of soft curves against hard lines.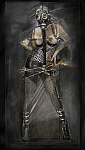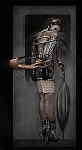 When producing his sculpture-electronic environmental pieces- the most important pieces were always the ones that appeared in his dreams, the Hussys come to life in a similar fashion dictating how they should look, the attitudes they posses and he situations they want to be in
He still lives in California with his family who are an inspiration to the working of his ladies. These drawings and paintings are a return to what he wants to paint and a way of regaining control over what he does paint.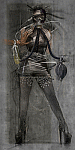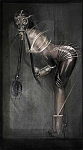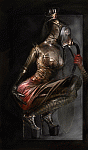 More about the artist on his website: