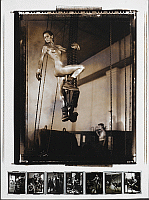 Heinz Henninger

Heinz Henninger, born in 1955 in Vienna, founded his first photo studio in 1978 after extended stays in Milan and London. He specialises in advertising photography - particularly photography with the subjects fashion, people and cars.

Henninger works for various Austrian and foreign advertising agencies, textile manufacturers and fashion magazines. He received the New York Art Council Prize for the series "The color of fashion" and in 1992 he presented his first book "Various Locations". His work has been shown at many different kinds of photo exhibitions in galleries and at advertising agencies.

Henninger works as a freelance photographer in his studio in Vienna.